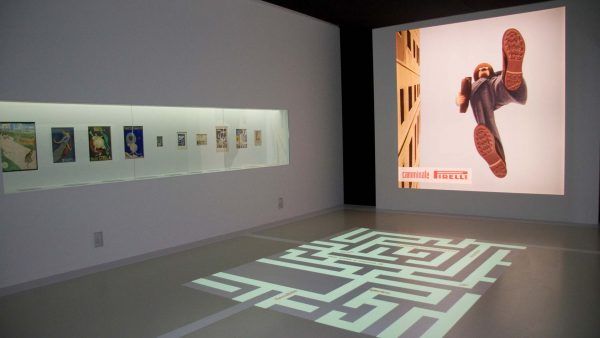 On Friday, 18 October, during the Red Dot gala at the Konzerthaus in Berlin, the Pirelli Foundation exhibit "L'anima di gomma. Estetica e tecnica al passo con la moda" ("Heart of Rubber. Beauty and technique in step with fashion"), which was at the Triennale in Milan from 21 June to 24 July 2011, won a Communication Design Award in the 2013 edition of the Red Dot: Gran Prix, one of the most important international design awards.
Selected from among some 6,500 works from 50 nations, the exhibit first took the Red Dot: Best of the Best award, which is given to the best works in each category, before then also winning one of the Red Dot: Gran Prix 2013 awards, the most important of the competition.
"L'anima di gomma. Estetica e tecnica al passo con la moda" used sketches and multimedia installations told the story of Pirelli fashion and related marketing efforts from shortly after the company was founded way back at the end of the 19th century on up to modern times. Over a century of customs and manufacturing history in the quest for new applications of materials and processes, all illustrated in four exhibition rooms: one dedicated to footwear (and rubber soles and heels); one to clothing (raincoats and overcoats); one to the beach (bathing costumes and other water and beach products); and one to Pirelli PZero, the Pirelli project of industrial design applied to fashion. Rubber was the star of the show as it took the shape of a multimedia ball that led visitors through the exhibit and showed them the properties of a material that can be processed in various ways to become a tyre, an elastic thread, fabric and many other objects.
The use of this interactive, multimedia language invited visitors to interact and play with the various components of the exhibit, making it particularly in line with the theme of the 2013 edition of the Red Dot Design Awards, "Inspire the World", which was one of the reasons that the judges gave the most important award to this Pirelli Foundation project.
Umberto Eco, and Italian writer, described the exhibit in these words: "In this wholly intangible exhibit, one made of images, history and interpretation, we see not the portrait of fashion, but a portrait of the image of fashion. And in that we see the novelty in this presentation. […] As we have already said, there are no objects, just representations, so as to shift our focus from the tangible aspect of fashion to the level of dreams. Indeed, fashion evokes and produces dreams, especially now."
The Pirelli Foundation worked with following individuals and organisations in the realisation of "L'anima di gomma. Estetica e tecnica al passo con la moda":
Multimedia and set design
Studio N!03
Architectural design
Federico Colletta, CO3 architetti associati
Art direction and graphic design
Leftloft
Fashion consulting
Francesca De Cherubini, Blade
Structures and setup
Allestimenti Benfenati S.p.A.
Video systems
Eletech
Lighting
iGuzzini,agenzia AMZ
23 October 2013