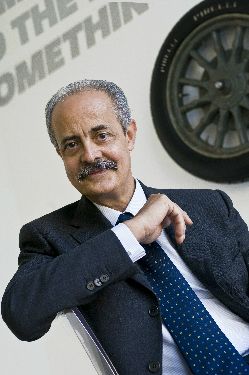 Art and industry. What the two have in common is a focus on materials, on form and function, and on communicating. At times, when the conditions are right, they also share the same space and the same symbols, such as it was for Micol Assaël at HangarBicocca, Pirelli's space for contemporary art in Milan. In the lower section of the Hangar, in what is know as the "Shed" (2,000 square metres of floor space, seven-metre high ceilings, time-worn walls and ironwork that point to the structure's industrial roots), five "rooms"—actually just large containers made of sheet metal, glass and wood—house a walk-in freezer, a haphazard collection of old engines running out of sync, a wind tunnel, a mass of electrical cables and transformers that can put out up to 9,000 volts of energy, a Kelvin water dropper sending out sparks between its two poles, a series of maps drawn in the tiny cells of an apiary, industrial fans, rubber parts fresh out of the factory in Settimo Torinese, the smell of diesel fuel that evokes the engine room of an old ship, and—seemingly out of place here—the smell of fragrant pine.
Machinery and nature. Obsolete technologies and hints of modern times. This unique assembly of objects, at times both disturbing and off-putting, nonetheless manages to welcome you in. All of this is a fascinating interpretation of the "culture of machines" in which Micol—a youthful artist of just 34 who studied philosophy, frequented art foundries and other sculpture houses, and knows all too well the challenges of manual labour (hence the air conditioners she had installed)—is able to make poetry that is at once tender and biting out of a mass of wires and metal.
The artists who come to HangarBicocca and do their work here often find themselves working along side Pirelli engineers and research-and-development technicians. There was Tomás Saraceno, who talked nanotechnology and special materials with them before creating On Space Time Foam, a cloud of thin plastic held up by air and providing a transparent walkway suspended twenty metres from the ground (a huge success that attracted over 120,000 visitors from September 2012 to January 2013). It was Carsten Nicolai who showed a fascination for the lasers that trace and cut out tread patterns, and this thin beam of light served as inspiration for his Unidisplay, a great wall of light and sound demonstrating harmony and creativity in engineering. Transforming the Hangar into a giant work site, the Roth team created the structures and other works for Islands, the installation of the great Dieter Roth (who passed away in 1998) that featured an "economy bar" made of workbenches and technology of a bygone era once used in the control room of Pirelli's former reception area in Viale Sarca.
Creative manufacturing, one might say, made possible by the very nature of this place. Indeed, HangarBicocca was once a factory, first for locomotives and then for great Ansaldo Breda electric motors, set in the "grande Milano", to the north between Bicocca, Sesto San Giovanni and Monza—the industrial heart of the city throughout the 20th century. The signs of those times remain, as does the spirit (the "soul" of the place), that strong identity as a sort of cathedral of industry, now a record of a history to be remembered and a dialog with the present—the embodiment of sound culture of enterprise.
It's perhaps symbolic, then, that Fausto Melotti's great sculpture in the entrance is made of weathering steel, in harmony with the black steel of the beams that support the vaulted ceilings of the three naves—one dedicated to The Seven Heavenly Palaces, the other two used to display the work of other artists—a permanent dialog on creativity. The spaces here welcome in and influence these great art installations and then even adapt to them over time, given the versatility that is a part of the very nature of the factory.
This dialog has also been a constant presence in both Pirelli's history and its culture. Take, for example, the artists (e.g. Cazzaniga, Treccani, Bianconi, and others) who were invited in the 1950s to tell the story of the factory, or Renato Guttuso in 1961, when he depicted scientific research in a grand painting and mosaic entitled La ricerca scientifica. Photographers and film directors (such as Gabriele Basilico, Silvio Soldini and, more recently, Carlo Furgieri Gilbert) have been called in to tell the story of the end of the Bicocca industrial area, its post-industrial renaissance, and the emerging features of a brand of manufacturing that brings together traditional craftsmanship (as embodied by Pirelli's sgorbiatori, those who carve out tyre tread patterns by hand) with sophisticated industrial robotics. The story of industry continues through new expressions of creativity and a quest for new forms and new meaning—part of what makes the bond between HangarBicocca and the Pirelli Foundation (the history and culture of enterprise). Manufacturing and art, a work in progress.
03 February 2014