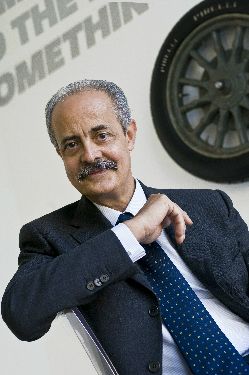 Making classical music once again a major part of popular culture with the awareness that people have never stopped loving it and, indeed, even the younger generations are calling for a more open, more intense relationship with it, one filled with intelligence and emotion, and connecting symphonies, sonatas and other concerts with the workplace. "High", contemporary popular culture. The allure of a unique harmony and a dimension in which Italian culture provided all of Europe with innovative works and original collaborations throughout the 20th century. This is the point of the relationship of a major Italian and multinational corporation such as Pirelli with a prestigious festival such as MiTo Settembre Musica (nearly a month of concerts in September in Milan and Turin), a reiteration of the value of experiencing music at work, repeated Monday evening at the Settimo Torinese industrial site, an event that drew the enthusiastic applause of a thousand people enjoying the Turin Philharmonic, conducted by Micha Hamel, as they performed Beethoven's First and Seventh Symphonies. "La Settima a Settimo", per dirla con una battuta di brillante comunicazione. Beethoven along side the robots and research labs of Pirelli's most advanced manufacturing facilities, in front of the services "spinal cord" building designed by Renzo Piano, and surrounded by 500 cherry trees. A factory that is both attractive and efficient, functional and sustainable, and now also musical.
There is, actually, a European tradition uniting music and the workplace. In Vienna at the turn of the century with concerts for workers – classical music for a new audience, different from the traditional bourgeois concert goer, and compositions contemporary to those times (such as Mahler's symphonies conducted by a young Webern, to cite just one example). As well as in Italy in the 1960s and 70s, with musicians such as Luigi Nono, Claudio Abbado and Maurizio Pollini – different sensitivities and different experiences in order to "brighten up the factory". The Pirelli Foundation has chosen to bring back this tradition through innovation, as you do in any good culture of enterprise, such as with the first concerts held at the Settimo factory within the context of the 2010 and 2011 editions of MiTo; hosting, twice each year in the auditorium of Pirelli's Bicocca headquarters, the rehearsals of the Italian Chamber Orchestra conducted by Salvatore Accordo, one of the world's foremost violinists (the dress rehearsal, Bach and Dvorak this time, is a concert for Pirelli employees and their families, while children are invited to the start of each rehearsal to have fun learning about violins, violas and cellos); or dedicating tickets in support of Milan's Verdi Orchestra to all "Pirellians". Work and music.
There is a deep bond between working with awareness in a company and making music, ensuring harmonious conduct, bringing people together, tuning instruments, and learning to unify original forms of expression and even dissonance. For the previous concerts, work and the "sounds" of work – the effort in performance, the quest for the utmost quality – were the central focus. A company is made of people at work – the rapid, skilful movement of their hands and the motions of the machines. The factory is rhythm, voices and sounds that become a bit like a song. A factory has its own form of music, and music can also come to the factory. Industry has its own form of culture, and culture can, and indeed must, find its place in industry.
In short, it's about producing something well, about finding and executing new, unique harmonies, which brings us back to tradition and innovation. The selection of Beethoven for this latest concert is confirmation of this union. His music has strong roots in the best canons of the 18th century. It expresses the romantic vitality of that century and represents the monumental import of all things "classical", and he would go on to influence composers for many decades to come with his extraordinary creativity and instrumental rigour. Tradition and innovation.
The venue chosen is also steeped in significance. On the back of this Great Crisis, manufacturing has returned as the heart of the economy in a sort of "manufacturing renaissance". The Settimo Torinese factory is a testament to how much manufacturing has changed and grown with the help of the most advanced technologies. It's something of a metamorphosis: enterprise becoming culture, but with a modern twist. "Performing a concert in a factory gives a sense of uniqueness and, at the same time, gives the idea that something new is taking place," said Micha Hamel, who conducted the Turin Philharmonic at the Settimo facilities. "Music comes to an unusual place, and we go beyond the ordinary. Artistically, this is a very important concept."
This is the awareness that inspired the entire experience of music at work, right from the first concert on 13 September 2010 at Pirelli's old facilities on the eve of their closure (to usher in the new industrial hub). On stage were I Fiati di Torino, a group of wind instruments from the RAI Turin Symphonic Orchestra, against a backdrop of tyres produced there at the plant. In the court, there were over 400 people enjoying the music of Mozart, Bach and Beethoven, Berio and Gabrieli, Saglietti and Stravinsky – from the 18th century to modern day. The music and the setting were both rich with significance. It was a concert for brass instruments, instruments made of metal, the same sort of material used to make machines, in a harmonious interplay, one that points to what work can be, must seek to be, even when that harmony is difficult to achieve.
Now that innovative technologies are making work more varied, richer and more complex, music can find new outlets, greater intensity, and greater relevance by going back to the classical and giving new meaning to modern-day living. A culture of experimentation and a quest for the innovative, of new forms of language.
For the second concert, on 9 September 2011, the orchestra was Pomeriggi Musicali, conducted by Luca Pfaff. The setting was the warehouse at the new Settimo Torinese facilities, the sound of working machinery a distant echo in the background. It is a factory after all. The programme, enjoyed by 700 people, featured the works of Stravinsky, Milhaud, Honegger and De Falla – music of the 20th century, a century of great change, change that encompassed the economy, politics, culture and all of society, altering social relationships and making them more dynamic, more confrontational. Language, too, was changed as we did new things and found new expressions to describe them.  The 20th century was also about industry, with a complexity intertwined with innovation and far-reaching change that had an impact on millions of men and women, on their jobs and on their relationships. Technology, of course, but also a universe of new responsibilities, an accumulation of self-promotion, conflicting needs, and mutating rights and obligations. The 20th century was one of words, images and motion, of entirely new sounds and music. Literature, music and the arts are literally taken apart and put back together. The classical became old-fashioned, replaced by a drive for research that continues now in these uncertain times.
Thus, reflecting on the 20th century and its music in the factory means not only critically assessing our recent past, but also seeking to build upon those memories to create a new epistemology of post-modernity and to lay the groundwork for a better future for humanity on the move. Music can help us to understand the profound meaning of change, of work, and of interconnected relationships. The culture of enterprise is finding its own soundtrack, inspired by Beethoven as performed at yesterday's concert. Classical symphony and modern-day relevance.
16 September 2014