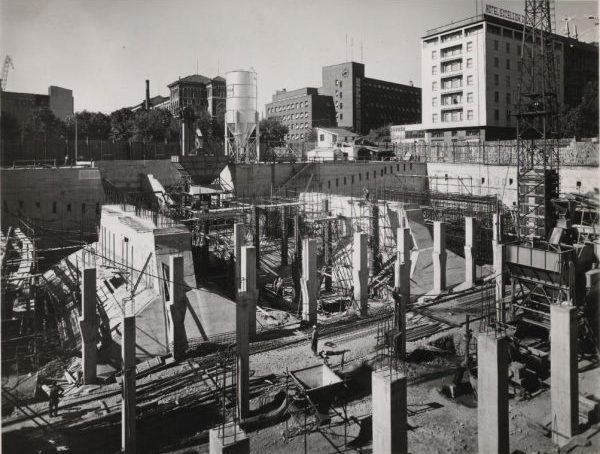 Excavations, foundation columns shooting up, panoramas, overviews, men at work, internal spaces, furniture and fittings: just a few of the subjects that make up more than 1,500 photographic images published in various forms (positives, photocolour and plate negatives) conserved in the Historic Archive of the Pirelli Foundation. The photos tell the story of the birth and construction of the Pirelli Skyscraper, or Pirelli Tower, known by all Italians as the "Pirellone", one of the best-known and most widely recognised buildings in the country, a symbol of rebirth and regained momentum towards the future, from a country busy with building its very own "economic miracle".
In 1955 Alberto and Piero Pirelli commissioned the architect Gio Ponti to build the new company centre, requesting that it be built on the area once occupied by the Casina Brusada, destroyed during bombing in 1943, right in front of the site where their first factory was built in 1872. Work began in 1956, overseen by a team of experts that included Luigi Nervi, Giuseppe Vatolina, Egidio dell'Orto and Arturo Danusso.
To commemorate the 6o years since the placing of the first stone in 1956 and to promote this important source of digitased photos, two series of images have now been made available online, "Demolition of the Brusada" and "Building the New Headquarters", documenting the excavations, and stages in the construction and completion of the building, taken by important photographers such as Aldo Baldo and photojournalism agencies like Publifoto. Some of these photographs have been published in Pirelli magazine, including those by Harno Hammacher, under the title Man and Skyscraper, Other series of interiors and exteriors will also be available soon.
This important body of work has assisted studies, research and exhibitions, including Pier Luigi Nervi: Architecture as a Challenge, curated by Carlo Olmo and held in Turin in 2011; the exhibition put on by Lombardy Region, The Age of the Skyscraper, produced in collaboration with the Triennale Milano,as well as a study of the building's construction process, presented by Professor Crippa of the Politecnico University of Milan as part of their work for the international congress on Photography of the 20th-century Architecture in Italy organised by the Lombardy Region and the Politecnico University of Milan.
The new section will be added to the catalogue of photographs related to car racing, fashion, and exhibitions, currently available in our online archive.
05 December 2016