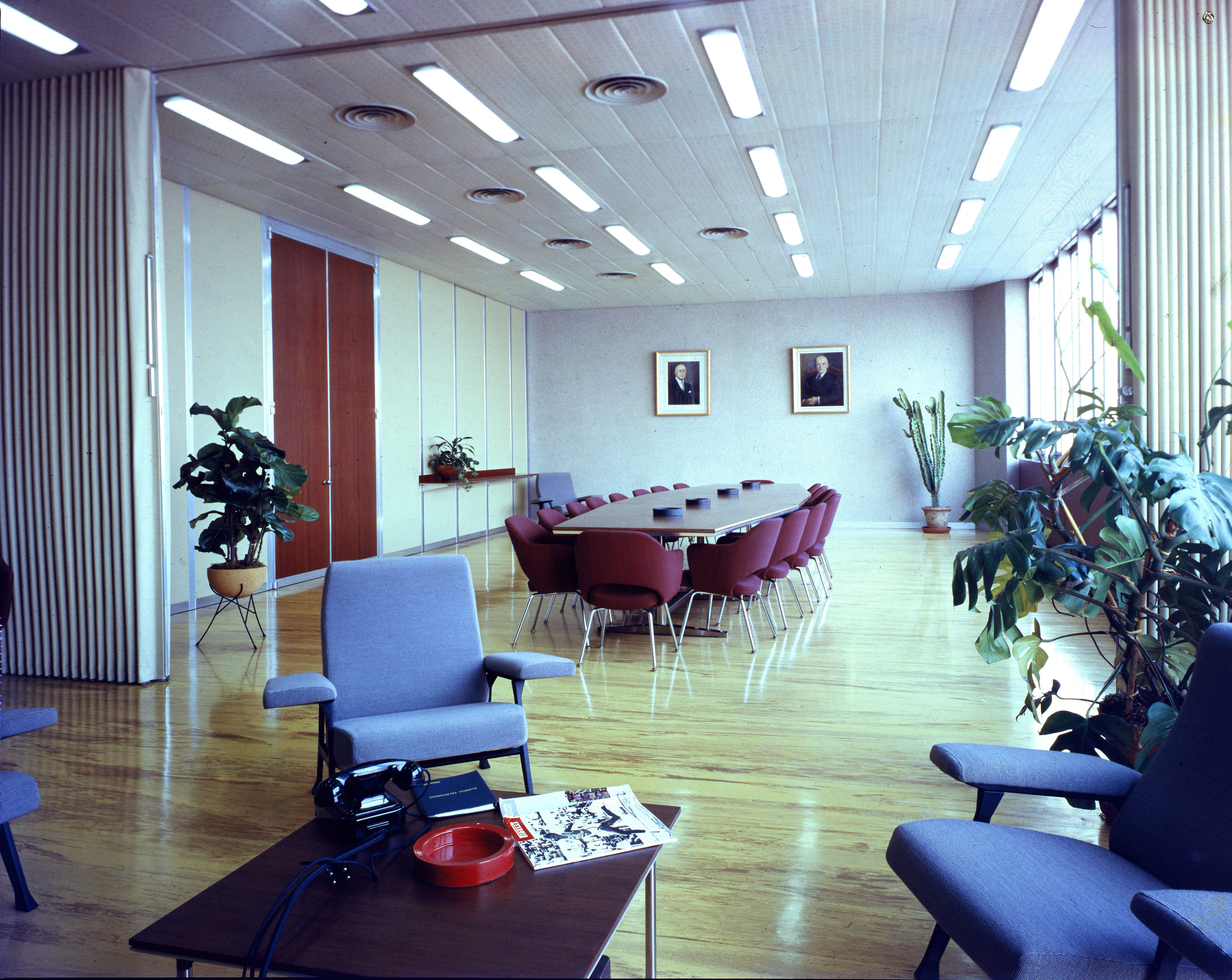 One interesting feature in the history of the tower is that of its interior design. The work of Gio Ponti, who designed it "in relation to and in continuity with the architecture", as we read in issue 71 of Edilizia Moderna devoted to the Pirelli headquarters in September 1960, the design gave a stylistic identity to all the premises and to all the furnishings, from the walls and floors, all clad in Pirelli rubber and linoleum, to the doors, through to the lifts, clocks, lamps and other lighting equipment, in the "democatic" belief that all the "inhabitants" of the building, from the company chairman to the office clerks, should live in the same spaces.
Colour, which was particularly important for Ponti – as he himself says in "Everything in the World Must Be Brightly Coloured", an article he wrote for Pirelli magazine in 1952 – was used as a "means of correcting the monotony and anonymity of the spaces" in the doors, which were clad in red linoleum, and on the floors, in yellow and black linoleum. Gio Ponti and Alberto Rosselli also chose the furniture: the desks were those Ponti had designed in 1955 for the Rima company, with metal frames and wooden or linoleum tops
The large meeting room tables recalled the ground plan of the "rice grain" building. The upholstered seats, on the other hand, were made by Arflex, a company set up in 1950 to an idea by the Pirelli engineer Carlo Barassi, which produced furniture upholstered with Pirelli foam rubber, bringing chairs, armchairs, sofas, and beds onto the market. They were designed by the greatest names in 1950s architecture and design, building on the experience acquired in the 1930s, when several Rationalist architects, including Ponti himself, had carried out the first experiments in furniture upholstered with latex foam rubber, which had been exhibited in the furniture show of the VI Triennale di Milano in 1936. "Hall" armchairs, designed by Roberto Menghi in 1958, were chosen for the waiting rooms in the tower.
The Pirellone was ready to embark on its new life.
18 May 2020