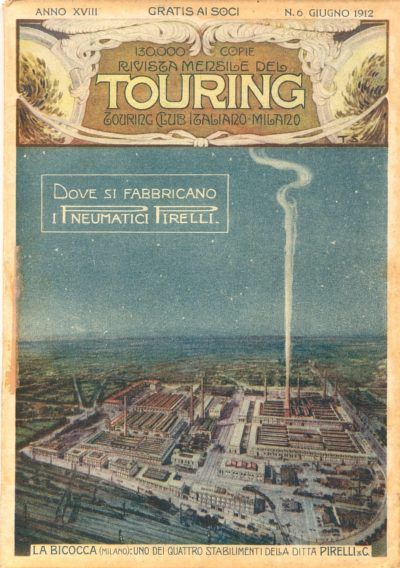 The Touring Club Italiano has turned 125: dating back over a hundred years, an idea of mobility in search of the marvels of Italy is being celebrated. Right from the early years of the twentieth century, Pirelli entrusted its own visual message to the Rivista Mensile del Touring – the monthly magazine of the Touring Club – and to its covers, sharing the Club's idea of progress that was sweeping through the country at the time. How modern is the girl in her driver's outfit, complete with visor glasses and white gloves, who in 1910 appeared on the cover of the magazine, testifying to the performance of Pirelli & C. Milano tyres! And what a magnificent sense of strength and dynamism we see in the column of cyclists painted by the artist Ballie for the cover of the April 1913 issue of Touring!
Pirelli and the Touring Club Italiano magazines painted the history of Italy on these covers, with Mario Stroppa's artwork, for example, showing how Milan was expanding in 1908 with the new Pirelli factory in the Bicocca district. They tell the story of the first cars, the dream of modernity, through the imagination of internationally renowned draughtsmen like Stanley Charles Roowy, who created the famous cover showing a red car with its body spelling out the words "Pneus Pirelli" in 1914. Its driver is a tamer, a new inventor of fire.
In 1917 the Touring Club's Le Vie d'Italia hit the newsstands with pictures of Pirelli tyres as clear symbol of modernity: the new covers testified both to the Great War and to the desire for peace, with an array of flags adorning the "Tyre of the Allies" in 1919. The cover designed by Nino Nanni in 1929 for Pirelli Superflex Cord tyres is also highly emblematic, with a white car hurtling along a cliff-side road, faster than the speedboat and the plane.
Once again, the car was a symbol of the modernity that inspired the Touring Club Italiano and that roared along the asphalt on Pirelli tyres.
20 January 2020